Katie Farrar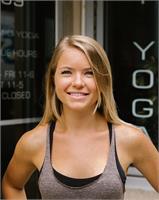 Katie wants to share her passion for yoga, fitness and well-being, by making it accessible and approachable for everyone. Her fitness career began in Australia where she had her own personal training business, following an in-depth program at a fitness college. Katie began practising yoga herself in 2014 and knew immediately that she wanted to be able to teach and share it with others. She completed her life-changing 200hr Vinyasa Flow Teacher Training in Bali in 2015, then continued to practise, learn and teach with fellow yogis from around the world. Katie has now returned from her travels and is thrilled to be teaching in her home town.
Katie Farrar instructs the following:



Vinyasa style class at a slower pace and lower heat, perfect for beginner level yogis, or anyone looking for a relaxed evening flow!




Breath and body moving as one. This practice creatively weaves postures together to strengthen the entire body while the continuous movement brings an element of meditation to the practice. Flow classes are stimulating and transformative, a great class for those seeking a physical and meditative practice. Come prepared to sweat and skillfully expand physical and emotional boundaries.




There are many Hot Yoga styles out there, from Bikram to Moksha Yoga to an class on the beach in Costa Rica at the height of summer! In true dynamic style our Hot Yoga classes are derived from diverse disciplines including but never limited to: YYoga & the Tapasya Hot Series, Bikram, Anusara & Hatha Yoga. The poses in our hot classes along with specific alignment and timing principles are designed to enhance strength, flexibility and balance both physically and mentally. The hot room facilitates deeper, safer stretching while your detoxifying sweat helps flush impurities from the body. The practice is strong and empowering, allowing you to tap into your own internal fire and determination.




A DFI signature service, created by owner Dave MacEachern. This truly dynamic class combines all the best that DYNAMIC FITNESS has to offer. This hot class is designed to boost your metabolism, burn calories and take you to your 'ATHLETIC' edge! HOT ATHLETICA is a 45-minute mix of high-intensity cardio intervals, strength training, core work, and power yoga in the warmth of 95 degrees.