Stefanie Phillips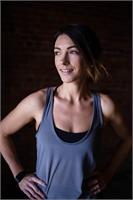 Stefanie is originally from PEI, where she first started attending classes at Dynamic Fitness in 2011. It wasn't long before she fell in love with Dynamic's signature service; Hot Athletica. Stefanie loves the upbeat tempo and energy of the class and to her this class is the perfect mix of exercise and fun. She always had a passion for health and fitness and so became a certified personal trainer through Fitness New Brunswick. Stefanie is also a certified Hot Athletica instructor and loves leading class... Staying active & healthy is important to her & her family!
Stefanie Phillips instructs the following:
A DFI signature service, created by owner Dave MacEachern. This truly dynamic class combines all the best that DYNAMIC FITNESS has to offer. This hot class is designed to boost your metabolism, burn calories and take you to your 'ATHLETIC' edge! HOT ATHLETICA is a 45-minute mix of high-intensity cardio intervals, strength training, core work, and power yoga in the warmth of 95 degrees.




A low impact class designed to break down how the body moves. Infusing yoga, Pilates, and conditioning exercises into one easy to follow format. This heated class will help you to develop a greater understanding of your center, or core, and how to stretch and tone muscles at the same time. Suitable for beginners to advanced.