Christina Portelli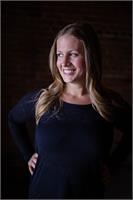 Christina began her yoga practice 3 years ago in Ontario. Years of struggling with knee and shoulder injuries she was looking for alternative therapies.
After one class she felt amazing and knew she had found a cure. She moved to Fredericton in 2014 and found Dynamic as a comforting place to continue her practice. This is where she discovered Yin, her first class was was out of the ordinary (in the best way!) and she needed more. That's when she found local teacher training and immediately signed up for her 300 hr intensive program. She is extremely happy with her decision to do so and to share her love for Yin. Learning so much along with self discovery, her practice will be forever changed and she is excited for the opportunity to share what she has learned. She plans to keep training in the future and to never stop learning in the world of yoga.
Christina Portelli instructs the following:
In a moderately heated room, this class offers a more meditative style that works on the connective tissues in the body. This style is great for improving flexibility, while maintaining joint mobility and bone health. The room is heated to 90 degrees.