Barbara Timmins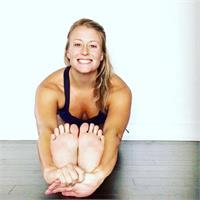 Years into her personal practice of Ashtanga Yoga, Barbara creates ever-evolving experiences for herself and the community around her. Her relaxed teaching style draws from her Bachelor's in Science in Kinesiology and over 500Hrs of various yoga trainings. She is intuitive to her student's needs and her personality delivers simplicity and lightheartedness, creating an accessible and receptive learning environment. After 3 years of entrepreneurship as a yoga teacher and kinesiologist in Ottawa, Ontario and is delighted to continue to share her practice and teachings in Fredericton.
Credentials:
Bachelor of Science in Kinesiology
Canadian Society of Exercise Physiologist - Personal Trainer
500Hr + Yoga Teacher Trainings & Continuing Education (Yoga and Leadership, Children's Yoga, Yoga Tune-up, Critical Alignment Theory, Teaching Vulnerable Populations, Yoga Sutras & Philosophy, Pranayama (Breathing), Assisting & Adjusting Posture, Teaching and Facilitation Techniques and Ashtanga Vinyasa Yoga)
Mental Health First Aid


Barbara Timmins instructs the following:
There are many Hot Yoga styles out there, from Bikram to Moksha Yoga to an class on the beach in Costa Rica at the height of summer! In true dynamic style our Hot Yoga classes are derived from diverse disciplines including but never limited to: YYoga & the Tapasya Hot Series, Bikram, Anusara & Hatha Yoga. The poses in our hot classes along with specific alignment and timing principles are designed to enhance strength, flexibility and balance both physically and mentally. The hot room facilitates deeper, safer stretching while your detoxifying sweat helps flush impurities from the body. The practice is strong and empowering, allowing you to tap into your own internal fire and determination.