Barbara Timmins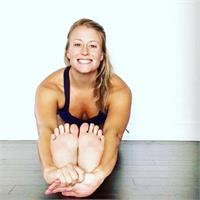 Years into her personal practice of Ashtanga Yoga, Barbara creates ever-evolving experiences for herself and the community around her. Her relaxed teaching style draws from her Bachelor's in Science in Kinesiology and over 500Hrs of various yoga trainings. She is intuitive to her student's needs and her personality delivers simplicity and lightheartedness, creating an accessible and receptive learning environment. After 3 years of entrepreneurship as a yoga teacher and kinesiologist in Ottawa, Ontario and is delighted to continue to share her practice and teachings in Fredericton.
Credentials:
Bachelor of Science in Kinesiology
Canadian Society of Exercise Physiologist - Personal Trainer
500Hr + Yoga Teacher Trainings & Continuing Education (Yoga and Leadership, Children's Yoga, Yoga Tune-up, Critical Alignment Theory, Teaching Vulnerable Populations, Yoga Sutras & Philosophy, Pranayama (Breathing), Assisting & Adjusting Posture, Teaching and Facilitation Techniques and Ashtanga Vinyasa Yoga)
Mental Health First Aid


Barbara Timmins instructs the following:
This upbeat flow class features all styles of music and will be sure to challenge and bend you, get you out of your head and pumped up for the weekend. This light-hearted class is suitable for all levels!




Explore inversions (including Handstand, Shoulderstand, Forearm Stand and Headstand) and unleash the strength in you. Learn proper alignment and techniques by way of body and breath for getting upside down so that you can feel supported and safe. This workshop will include: prep postures, partner assists, wall work and best of all play and laughter!