Roman Finkel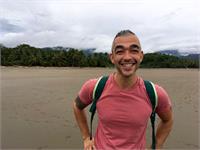 Roman began practicing yoga more than a decade ago in NYC.
After doing his 200-hour Hatha teacher training in Costa Rica, he has taught in Costa Rica, New York City, Mexico, and Fredericton. While physically demanding, Roman's classes are centered around lightness, gratitude, joy, and not taking ourselves too seriously. Roman believes in a safe, sustainable, and fun approach that focuses on alignment, breath, and present moment awareness. Roman enjoys walks on the beach, petting dogs that don't belong to him, and writing about himself in the third person.
Roman Finkel is currently not instructing any classes.